Vent Hood Rooftop Grease Containment
Roof top grease containment should be a big concern for every restaurant owner or general manager for several reasons:
As part of your Grease Management Program, we will monitor your rooftop conditions from cleaning to cleaning. At the time of service, the condition of the roof will always be noted on the after service report. We will make recommendations on how to help prevent future accumulation of grease on the rooftop.
There are many different types of grease containment units that we can purchase and install for you. Let us help you determine which unit works best for your faculties rooftop.
The Grease Gutter is a great solution for up-blast fans that discharge grease from all four sides. The material used in the Grease Gutter is designed to absorb grease while allowing water to pass through. This system is attached below the up-blast fan to create a barrier between it and the rooftop.  This makes it easy to visibly insure that grease does not reach the rooftop. As the pads become completely saturated with grease, they are changed out at the time of the Kitchen Exhaust Cleaning Service. It is weather resistant and will last for years.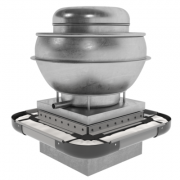 The Roof Guardian™ is used in applications where a Grease Gutter™ won't work. The Roof Guardian™ has a state-of-the-art five-layered grease filtration system with a bottom layer dedicated to fire prevention to help keep your roof safe and grease-free. The Roof Guardian™ is one of our most versatile lines of grease containment and can be built to almost any application and size.
Begin defending your rooftop from grease with Off The Roof protection! Stop using old technology that hides grease under layers of filters that sit on your roof. The Roof Guardian™ sits on the roof via four corner legs with multiple support legs in the center and provides a 360-degree protection around the exhaust fan. This system sits two inches off the rooftop to allow inspection of the roof between service intervals.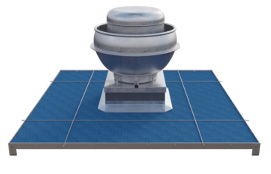 Omni Containment Rooftop Guardian
In contrast to the Grease Gutter, the Side Kick is a great solution for up-blast fans that only discharge grease from the drain spout.